Edge.
Transparency.
Results.

Fluent Integrated Marketing Spoken Here.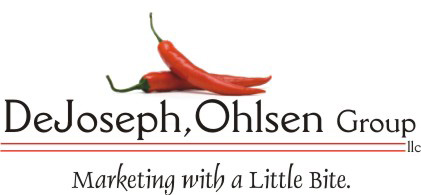 Work
The company is equipped to create and implement campaigns which include:
Brand Strategy & Positioning
Creative & Content
Multi-Level Campaigns
Media Planning
TV
Radio
Outdoor
Print
Direct Marketing
Digital Marketing
PR
Event Marketing
Social Media
Logo Design
Copy Writing
Interactive, Technology & Innovation Development
Public Relations
We offer complete design, production, media relations and implementation services.
The longevity of our relationships is built on trust, respect, and the impact of what we
collectively accomplish.
Everything we do with our client partners is focused on the work we create together. It's not always easy, but it's always worthwhile. It ensures the product of our partnership is the best it can be.
Contact us
if you'd like us to share some examples of our work.
© 2012 DeJoseph, Ohlsen Group. All rights reserved.